Quality Different Sizes of OSB for Construction Projects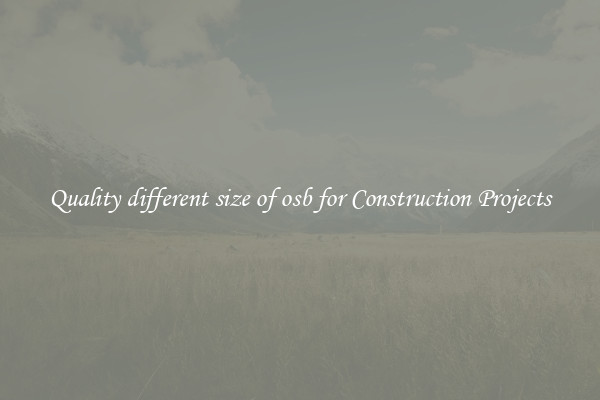 When it comes to construction projects, one of the most important materials to consider is OSB, or oriented strand board. OSB is a type of engineered wood that is widely used in construction for its durability and versatility. It is made by compressing wood strands and adhesive together, creating a strong and sturdy material that can be used for a variety of applications. One of the key factors to consider when choosing OSB for your construction project is the size of the board. Here, we will explore the different sizes of OSB available and their benefits.
The most common sizes of OSB include 4x8 feet, 4x9 feet, and 4x10 feet. These standard sizes are readily available and can be used for various applications such as subflooring, sheathing, and roofing. Their larger sizes make them ideal for covering larger areas and minimizing the number of seams required.
For smaller construction projects or areas that require more precise measurements, smaller sizes of OSB, such as 2x8 feet or 2x4 feet, are available. These sizes are often used for things like cabinets, shelves, and smaller walls. They are easier to handle and allow for more flexibility in design.
In addition to these standard sizes, OSB can also be custom cut to fit specific project requirements. This is particularly useful for irregularly shaped areas or when working with existing structures that require specific dimensions. Custom-cut OSB ensures a perfect fit and minimizes waste.
When selecting the size of OSB for your construction project, it is important to consider factors such as load-bearing capacity, span requirements, and transportation limitations. Larger sizes of OSB are generally stronger and more suitable for heavy-duty applications, while smaller sizes are better suited for lighter loads.
It is also worth noting that the thickness of OSB can vary. The most common thicknesses range from 7/16 inch to 1 1/8 inch. Thicker boards are typically used for structural purposes, such as load-bearing walls or floors, while thinner boards are suitable for non-structural applications like sheathing or decorative finishes.
One of the key advantages of using OSB in construction projects is its cost-effectiveness. Compared to other materials like plywood, OSB is typically more affordable, making it an attractive option for budget-conscious projects. Additionally, OSB is known for its ability to resist moisture, making it a durable choice for exterior applications.
In conclusion, choosing the right size of OSB for your construction project is crucial to ensure structural integrity and cost-effectiveness. The different sizes available, ranging from standard 4x8 feet boards to custom-cut options, offer flexibility and versatility. Consider the load-bearing requirements, span limitations, and transportation constraints to determine the most suitable size for your project. By selecting high-quality OSB and using the appropriate size, you can ensure long-lasting and successful construction results.