Quality CMYK Printed Casebound Book in Alluring Styles and Prints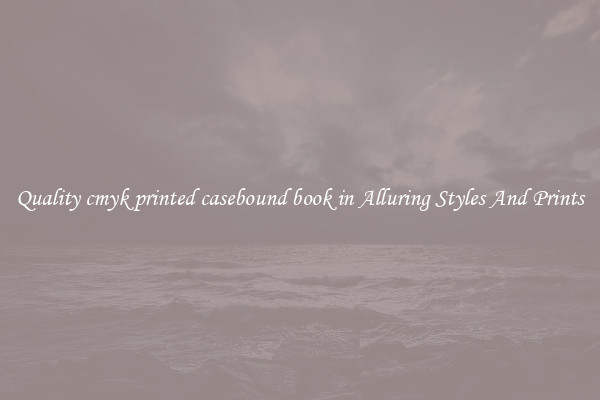 In today's digital era, an old-fashioned printed book possesses a unique charm that cannot be replicated by electronic devices. The touch and feel of the pages, the weight of the book in your hands, and the smell of the ink make reading a physical book a treasured experience. When it comes to printing books, one of the finest methods is CMYK printing, which produces vibrant and high-quality colors. Casebound books, on the other hand, provide durability and a touch of elegance to any publication. When you combine these two elements, you get a quality CMYK printed casebound book that is truly captivating.
CMYK, which stands for Cyan, Magenta, Yellow, and Key (black), is a color model that is widely used in the printing industry. By combining these four primary colors in varying proportions, a wide range of hues and shades can be achieved. CMYK printing is perfect for books because it accurately reproduces images and text with sharpness and clarity. Whether it's a children's book with vibrant illustrations or a photography album with rich colors, CMYK printing ensures that every page is a visual delight.
When it comes to casebound books, the cover itself is a work of art. Casebound refers to books with hardcovers that are made of durable materials such as cardboard or leather. This type of binding adds an extra layer of protection to the book, making it ideal for long-term use and display. Additionally, casebound books exude a sense of sophistication and luxury that elevates the reading experience.
One of the advantages of CMYK printing in casebound books is the ability to create alluring styles and prints. Publishers and designers have endless possibilities when it comes to choosing colors, patterns, and textures for the book covers. From metallic foils to embossed designs, CMYK printing can bring any concept to life.
For example, a fantasy novel set in a magical world could have a cover with a CMYK printed illustration of a mystical creature, enhanced with metallic accents and embossed details. On the other hand, a cookbook could feature a vibrant CMYK printed photo of an appetizing dish, with a matte finish and a spot UV coating for a glossy effect.
Furthermore, with advancements in printing technology, it is now possible to print personalized casebound books. Individuals can create custom journals, photo albums, or memoirs with CMYK printing, allowing them to have a truly unique and cherished item.
In conclusion, a quality CMYK printed casebound book offers an exceptional reading experience by combining the vibrancy and precision of CMYK printing with the durability and elegance of casebound binding. The alluring styles and prints that can be achieved with this combination make each book a work of art. Whether it's for personal use or as a gift, a CMYK printed casebound book is a testament to the enduring beauty of the printed word.